Beyr Reyes
BEYR REYES received her doctorate degree in Biomedical Science. She has over 200 publications in science, medicine, and Christian genres. She has spent the last several years teaching and mentoring Christian writers, and even started ShadeTree Publishing to provide a more accessible publishing venue for them and to serve as a birthing station for their careers. In addition, she has worked in the drug industry since 2005 as a regulatory writer for major international pharmaceutical and biotech companies. (Beyr Reyes is Jennifer Minigh's
penname for the Christian genre.)
---
BOOKS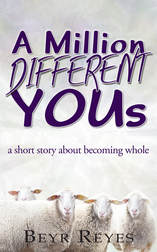 ​Do you ever feel like you have to be different things to different people? Do you struggle with pulling yourself together? Rachael ultimately realized this too, and finally discovered what it takes to make a fractured life whole again.
---
The stories of the Bible from an alien perspective, Renewable Energy explores the purpose of life and how to get a second chance at it while being caught in the middle of a great battle for "soular" energy.

2016 CSPA
​General Fiction Book of the Year

Loaded with plot twists and surprises, this short story delivers a powerful message about forgiveness and how our life affects other people, even those we don't know. The book is widely endorsed by therapists and ministry leaders because it helps the reader to be set free from the bondage of unforgiveness.
---
| | |
| --- | --- |
| ​You may be asking whether the world needs another book about fasting, and the answer is YES, because THIS book is different. Other books tell you why to fast or explain the importance thereof, but leave you guessing how to even start. Fast Answers has individualized fasting plans with a clear starting point, destination, and goal. The plans come in 1-, 3-, or 7-day varieties and are tailored for specific prayer needs. This book is designed to help people get answers and resolve problems by drawing closer to God through fasting. No longer will you fumble your way through a fast. With this book, you will find your way to the answers you need right now. | ​Relaying the Word is a non-denominational bible study curriculum that builds relationships with others and with the Word. No personal agendas. No doctrine. Just the Word. It works for all ages, levels, and Christian faiths, and works best when there is a combination of it all. |
---
2014 CSPA eBook of the Year

Need to get control of your life? Tired of constant dieting? Fed up with bad habits? Subjection is the answer that lasts. Learn how to eradicate the problem areas in your life. Take control of your flesh and turn your life around using the Word of God. AVAILABLE IN E-BOOK ONLY.

Being called to share your life story is not the same thing as being called by God to be a writer for Him. There is a difference. If you don't know which category befits you, then this book will help you to decide. On the other hand, if you know without a doubt that you are called to write for God, then this book will open your eyes to what that entails and what awaits you.
---
2011 Readers Favorite
Silver Award

What do you believe and how do you show it? This book is designed to challenge your foundational beliefs and then challenge you to stand on them. All along the way, you will
make decisions that will affect your life forever.

2011 Readers Favorite
Bronze Award

Most folks know the stories about Creation, the Jewish nation, and Jesus, but they don't know how all these things are connected. This book is a broad perspective of the Bible that will help the beginner to place events and
their purposes. For the readers who always have their heads buried in certain passages, this book is a refreshing step back to help illuminate the big picture.